Cruisers Yachts Factory Videos: A Look Inside
If you've never experienced the inside of a boat manufacturing plant, there's usually a lot that happens—especially at Cruisers Yachts factory, where almost every component is fabricated in-house. From metal to wood and just about everything in between, these American-made boats, handcrafted within this state-of-the-art facility, undergo a rigorous process perfected throughout the years.
Start Your Virtual Tour
Watch the exciting progression of how each step builds upon itself within the video series below.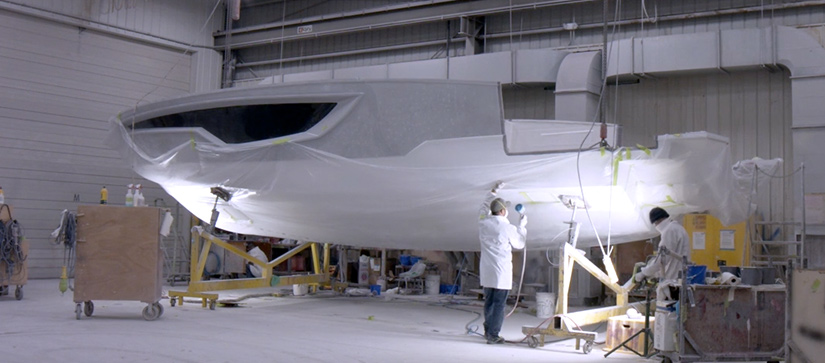 Play video for Inside the Cruisers Yachts Factory
Inside the Cruisers Yachts Factory
Fiberglass
Cruisers Yachts' modern design and craftsmanship are rooted in fiberglass technology. Advanced resin infusion techniques ensure precision and strength. Innovative stringer systems and bulkheads enhance rigidity and offer various benefits, including vibration absorption. To complete the process, a premium gel coat and Sea Hawk bottom paint provide vibrant color and top-notch UV resistance.
Continue The Virtual Tour
Metal

Cruisers Yachts' in-house team handles all aspects of metal fabrication, from cutting and shaping to welding and finishing, ensuring each piece is suitable for its specific application. 316L-grade stainless steel offers superior corrosion resistance, while Gerber waterjet cutters ensure precise cuts for intricate parts such as the logo. Metal components enhance durability throughout the vessel, reinforcing key elements such as deck cleats, rail stanchions, arch legs, and sump and bilge pump foundations.

Electric

Cruisers Yachts takes pride in internally fabricating electrical systems using 10-gauge copper strand wires for superior corrosion resistance. Each wire is meticulously tracked and labeled for easy identification, and custom wire harnesses tailored to specifications ensure precision. Aviation-style harnesses with Deutsch connectors enhances reliability, while hand-assembled panels are perfected for a precise fit. Chafe guards protect wiring and plumbing runs throughout the vessel.

Upholstery

Cruisers Yachts combines technology and craftsmanship in its upholstery division. Cutting-edge machines and hand-sewn techniques create high-quality materials. Top-quality materials are used for a classic and durable interior look, with high-density memory foam mattresses for comfort. Exterior seating features polymer frames, various foam densities, and special drain-fast foam to prevent water absorption.

Woodworking

Cruisers Yachts combines traditional craftsmanship with advanced techniques to create sophisticated interiors, wooden cabinetry, doors, and moldings. Exotic woods are meticulously selected, machine-sanded, and finished to withstand marine environments. Cruisers Yachts' state-of-the-art facilities feature a flat-lined spray finishing system and integrated drying ovens for precise, efficient finishing. An advanced wood press rapidly fabricates large hardwood parts. All countertops are also cut and finished in-house, ensuring quality control.